Image Carousel with 3 slides
A carousel is a rotating set of images. Use the previous and next buttons to change the displayed slide
International Affairs Building, 420 W. 118 St., New York, NY 10027 Room 405
6:10 PM - 8:00 PM
International Affairs Building, 420 W. 118 St., New York, NY 10027 1512
5:00 PM - 7:00 PM
September 20, 2022
This digest of job, internship, and volunteer opportunities is published weekly; each post is live for four weeks.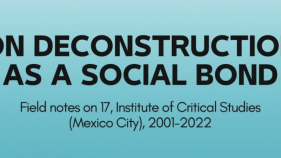 17, Instituto de Estudios Críticos was established in Mexico City, in 2001. Its founding trope was the Blind Photographer and its original intuition was that of a silence-producing machine. Over the last two decades it has given forth to an archipelago of sorts, including the first Spanish-speaking accredited postgraduate programs in Critical Theory, a Center for Advanced Studies, a publishing house, a consultancy, and an online radio station. More recently it also designed a social and economic mechanism designed to provide support for the academic, cultural and social communities in Latin America and their initiatives: the "Critical Ensemble" incorporating the Mutual social network, the Floating Market online exchange, and Critical Switch, a platform for new initiatives. Although originally concerned with Literature, Philosophy, Art, Political Thought and Psychoanalysis, the Institute gradually focused too on the study of Gender, "Disability", Health, Childhood, Pedagogy, Mediation, Improvisation, Historicity, Territoriality and Management. It has convened thirty-five international colloquiums, published 700 authors, offered some 1,500 courses, and awarded a dozen honorary doctorates.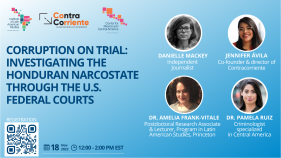 A conversation with the project's leaders and other experts to learn about this innovative effort in pursuit of transparency.
Panelists: - Danielle Mackey, Independent Journalist - Jennifer Ávila, Co-founder and director of Contracorriente - Dr. Pamela Ruiz, Criminologist specialized in Central America - Dr. Amelia Frank-Vitale, Postdoctoral Research Associate and Lecturer, Program in Latin American Studies, Princeton Corruption on Trial is one of several Applied-Academic Projects supported by Columbia's Center for Mexico and Central America (CeMeCA).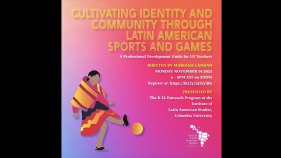 A professional development guide launch presented by The K-12 Outreach Program at ILAS, Columbia University. This curriculum guide is an exploratory collection of traditional, family games and sports played in Latin America for all K-12 teachers. It highlights physical activities and athletics practiced throughout the region to discover how multiple forms of identity develop and change over time, as well as their connection to culture, social environments, and love for the game. The K-12 Outreach Program at ILAS, Columbia University, invites K-12 teachers and educators to join the author as they present and discuss the professional development guide.