Image Carousel with 3 slides
A carousel is a rotating set of images. Use the previous and next buttons to change the displayed slide
November 23, 2020
This digest of job, internship, and volunteer opportunities is published weekly; each post is live for four weeks.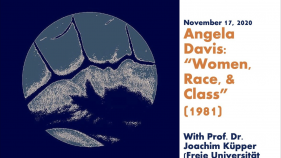 This session of the Reading Group "Decolonization, Neocolonialism and Human Rights" focused on Angela Davis' piece titled "Women, Race, & Class".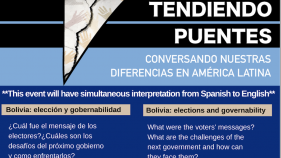 Le invitamos a esta conversación sobre Bolivia, elecciones y gobernabilidad. Preguntaremos: ¿Cuál fue el mensaje de los electores?¿Cuáles son los desafíos del próximo gobierno y como enfrentarlos? 
Join us for a conversation with experienced panelists on Bolivia, elections, and governability. We will ask – what were voters' messages? What are the challenges of the next government and how can they face them?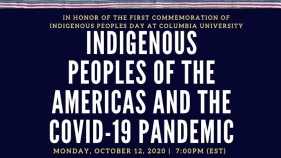 In honor of the first Indigenous Peoples Day 2020 commemoration at Columbia University on 12 October 2020, different Institutes and Centers organized the event "Indigenous Peoples of the Americas and the Covid-19 Pandemic", featuring various speakers.