Image Carousel with 3 slides
A carousel is a rotating set of images. Use the previous and next buttons to change the displayed slide
January 11, 2021
This digest of job, internship, and volunteer opportunities is published weekly; each post is live for four weeks.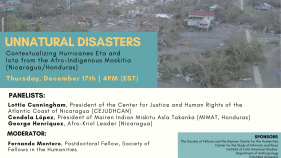 In the month of November, two Category 4 hurricanes struck the Afro-Indigenous Moskitia region of Central America -- a region already in the throes of a COVID-19 outbreak. In this event, two Miskitu activists and one Afro-Creole political leader from the region reflect on the wider sociopolitical and economic context giving shape to the hurricanes and their aftermath.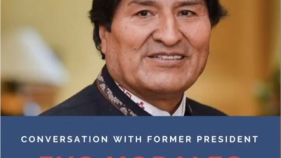 Directora del Instituto de Estudios Latinoamericanos (ILAS) Maria Victoria Murillo conversó con el ex-presidente de Bolivia, Evo Morales. El evento fue organizado por los estudiantes latinoamericanos de SIPA de la Universidad de Columbia.
This interdisciplinary reading group is a colloquium among peers, and dedicated but not limited to terms of intersectional discrimination, inequality, Human Rights, and colonial history. The discussions will have a special focus on Latin America, and be centered around key concepts such as Postcolonialism, Neocolonialism, Abolitionism, and Decolonization.
This session will focus on Walter Mignolo and Catherine Walsh's "On Decoloniality". It is accompanied by Dr. Walter Mignolo (Duke University).