Image Carousel with 3 slides
A carousel is a rotating set of images. Use the previous and next buttons to change the displayed slide
International Affairs Building, 420 W. 118 St., New York, NY 10027 802
12:00 PM - 2:00 PM
September 20, 2022
This digest of job, internship, and volunteer opportunities is published weekly; each post is live for four weeks.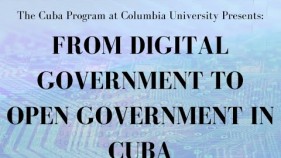 The Cuba Program at Columbia University Presents: From Digital Government to Open Government in Cuba
Moderator: Dr. Margaret E. Crahan, Senior Research Scholar, and Director, Cuba Program at the Institute of Latin American Studies, Columbia University. Speaker: Harold Cardenas, Director, and Co-Founder of JOVEN CUBA.
Commentator: Dr. Ariel C. Armony, head of the University of Pittsburgh's global engagement and the Vice Provost for Global Affairs and directs the University Center for International Studies.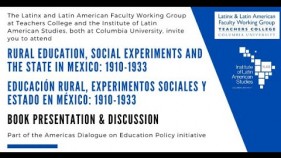 The book analyzes the role that national rural education programs played in cultural change and in the institutionalization of a new political regime in Mexico's post-revolutionary years. Through a series of policy trials to educate rural populations, it seeks to unveil how citizenship, family, and religion were reshaped and attempted, in turn, to reshape rural identities to fit modern society.
With Marco Calderón, Professor and Researcher at the Center for Anthropological Studies, El Colegio de Michoacán
Discussant: Carlos Escalante, Professor and Researcher of Contemporary History, El Colegio Mexiquense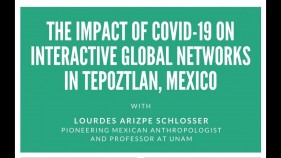 Professor and pioneering Mexican anthropologist Lourdes Arizpe presents the impact of Covid-19 in Tepoztlán, Morelos, Mexico, based on her ongoing ethnographic study. In addition, Professor Arizpe speaks about the major pathways and themes of analysis that anthropology could develop in the coming years of living with the pandemic.