Image Carousel with 3 slides
A carousel is a rotating set of images. Use the previous and next buttons to change the displayed slide
International Affairs Building, 420 W. 118 St., New York, NY 10027
9:30 AM - 10:30 AM
November 08, 2021
This digest of job, internship, and volunteer opportunities is published weekly; each post is live for four weeks.
The Buscadoras Research Unit is a team of student and faculty volunteers, organized with the objective of supporting missing persons' organizations operating in Mexico and Central America today. This project aims to create a bilingual portal that functions as a productive and practical space to socialize information, intercommunication, critical analysis, and the construction of collective memory.
Panelists: Monica Trigos (MPA, SIPA), Gregory Odum (PhD student in Anthropology, Columbia University), Alexander Gil (Digital Scholarship Librarian, Columbia University)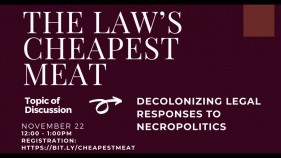 The event debates an ongoing project by Professor Amparo entilted "The Law's Cheapest Meat: Decolonizing Legal Responses to Necropolitics". By dissecting the oral debates and written petitions of the main case on police violence before Brazil's Supreme Court, Amparo seeks to reconstruct the arguments brought before the Court by black lawyers and activists to decolonize the view, common in the mainstream legal narrative, which sees those actors only as victims, asking to what extent the speeches before the Supreme Court reveal subaltern and powerful views on the role of the Law and the justice system in combating the government of death and what futures these actors dream of.
Speakers:
Thiago Amparo Professor at FGV Law School and International Relations School (Brazil) Post-doctoral fellow at NYU - New York University (Fall 2021) Co-founder and director of FGV's Center on Racial Justice and Law (Brazil)
Kendall Thomas Nash Professor of Law Director of Studio for Law and Culture at Columbia University
Moderator: Gustavo Azenha (Executive Director of ILAS)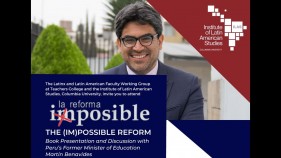 The Latinx and Latin American Faculty Working Group at Teachers College and the Institute of Latin American Studies, Columbia University, invite you to attend The (Im)possible Reform - Book Presentation and Discussion with Peru's Former Minister of Education Martín Benavides.
"When I was Minister of Education, I told my colleagues that I would remain in silence for at least five months after leaving my position. Out of respect for my successor, since I believed that we were somewhat responsible for what we leave behind. I kept my vow, and these have not been months when I did not want to defend the administration from unfair, imprecise, or false statements. But I remained in silence. Instead, I wrote this book to tell my story as a public servant: first, as superintendent at SUNEDU and then, as a state Minister. This is not an academic book, but a narrative, documented by interviews of the time, public documents, and facts reconstructed along with some colleagues." --Martín Benavides
Discussant: Regina Cortina, Professor of Education at Teachers College, Columbia University