October 25, 2021
This digest of job, internship, and volunteer opportunities is published weekly; each post is live for four weeks.
1th Amefrican Dialogue colloquium and 4th Brazil-Peru meeting: Black women, decoloniality, and activism in Latin America
Amefrican connections against epistemic racism in Latin American and the Caribbean Oct. 6th from 6-8pm This panel demystifies the academic writing and unmasks the epistemic racism in Latin American universities, based on the process of editing the Revista Conexión's special issue "Media narratives of insurgencies, resistance, and anti-racism in Latin and the Caribbean'' (2021). This issue addresses the academic writing and publishing process as a platform for Amefrican connections led by Black women from Brazil, Peru and Venezuela.
Panelists: Dr. Meyby Ugueto-Ponce, M.A Sharún Gonzalez Matute, Dr. Camila Daniel
Una conversación sobre la segunda vuelta y el futuro de Perú incluyendo una discusión sobre la reforma constitucional y las políticas necesarias para reducir el descontento social y político.
Betssy Chavez, congresista-electa (Tacna) de Perú Libre, el partido del candidato Pedro Castillo
Fernando Rospigliosi, ex-Ministro del interior y miembro del equipo de campaña de la candidata Keiko Fujimori
Moderadores: Victoria Murillo (ILAS) & Steve Levitsky (DRCLAS)
Este evento es parte de la serie "Tendiendo Puentes" y esta siendo organizado por el Instituto de Estudios Latinoamericanos en la Universidad de Columbia y co-patrocinado por el Centro David Rockefeller para Estudios Latinoamericanos en Harvard.
[Publicado inicialmente en Mayo 2021]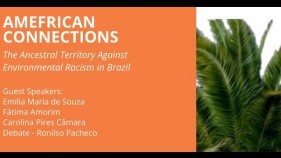 The panel will discuss leadership of Black women in claiming territorial rights, and their work as community organizers against environmental racism in Rio de Janeiro, Brazil.
Panelists:
Emilia Maria de Souza - vice-president of Associação de Moradores do Horto (AMAHOR), Horto Community Fátima Amorim - community organizer from Estradinha community.
Carolina Pires Câmara - PhD candidate in Sociology and Law (Universidade Federal Fluminense). Activist-researcher in both communities.
Moderator - Ronilso Pacheco - M.A's candidate at the Union Theological Seminary, Columbia University. Professor and Activist in Human Rights, Anti-racism and Religious Freedom struggles.
Connect With Us
Learn about upcoming events, webinars, and ILAS news by subscribing to our newsletter.