May 09, 2023
Paths of Desperate Hope is an ongoing exhibition curated by Carlota Ortiz Monasterio and designed by Alejandra Avalos Guerrero. It features a selection of nearly 60 photographs taken by Colombian photojournalist Federico Rios during his years chronicling displacement in the region. 
The exhibition is taking place in the lobby of the fourth floor in the International Affairs Building at the Columbia School of International and Public Affairs (SIPA) through the rest of the semester of Spring 2023. 
March 20, 2023
This digest of job, internship, and volunteer opportunities is published weekly; each post is live for four weeks.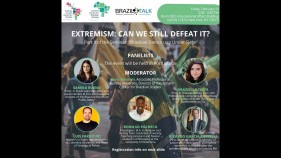 On February 10 2023, the Lemann Center for Brazilian studies hosted experts to discuss the current state of political extremism in the country.
The event was in portuguese.
Panelists:
Ronilso Pacheco, teólogo, mestre em Religião e Sociedade pela Universidade de Columbia-NY, professor de Filosofia na Universidade de Oklahoma.
Samira Bueno, doutora em Administração Pública e Governo pela FGV e diretora-executiva do Fórum Brasileiro de Segurança Pública.
Graziella Testa, doutora em Ciência Política pela USP, é consultora de risco político e professora da Escola de Políticas Públicas e Governo da FGV.
Ricardo Garcia Cappelli, Secretário-Executivo do Ministério da Justiça e Segurança Pública e designado Interventor Federal de Segurança Pública no Distrito Federal após atos antidemocráticos em Brasília.
Luis Fakhouri, mestre em Administração Pública pela Universidade de Columbia e Diretor de Estratégia da Palver.
Moderator Paulo Blikstein, Professor na Universidade de Columbia, Diretor do Centro Lemann para Estudos Brasileiros.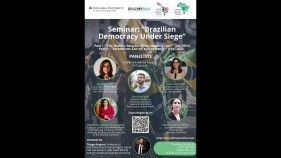 In the afternoon of the 8th of January 2023, supporters of former President Jair Bolsonaro stormed the center of power in Brazil. On January 26 2023, our panelists came to ILAS to talk about how can we understand the implications of the uprising for #democracy.
Moderators:
Paulo Bilkstein is an Associate Professor at Columbia University, Director of the Lemann Center for Brazilian Studies.
Thiago Amparo is a Professor of International and Human Rights Law at FGV Law School in São Paulo (Brazil) and a Visiting Scholar at Columbia University.
Speakers:
David Nemer is an Assistant Professor in the Department of Media Studies at the University of Virginia. Nemer is the author of Technology of the Oppressed (MIT Press, 2022), winner of the Marcel Roche Award, and studies far-right movements in Brazil.
Marina Dias is a Brazilian reporter, currently working for The Washington Post in Brazil. Former US correspondent for Brazilian newspaper Folha de S.Paulo.
Julia Duailibi is a journalist, anchor and commentator on politics and economics at GloboNews since 2018. She has worked in the newsrooms of Folha de S.Paulo, O Estado de S.Paulo, Veja, Piauí and Band, in São Paulo and Brasília.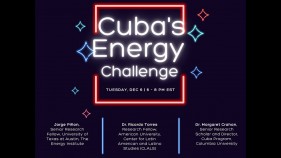 Blackouts, brownouts, and scarcity of oil, gas, and gasoline have seriously affected Cuba in recent years. In addition, in August 2022 a fire raged through the oil depot in Matanzas, not only destroying substantial reserves but also contributing to serious environmental contamination. Professor Jorge Piñon, Senior Research Fellow, Energy Institute, the University of Texas at Austin, and Professor Ricardo Torres, Research Fellow, American University, will analyze the current energy challenges in Cuba.
Connect With Us
Learn about upcoming events, webinars, and ILAS news by subscribing to our newsletter.